Leadership Team Effectiveness
Organisations succeed with a high performing leadership team
A single leader can make some difference but strong leaders have strong teams. Your leadership leadership team is at the heart of your organisation's ability to drive results.
How complex is your leadership team?
High performing teams are plugged in. They feel empowered to make an impact whilst creating positive experiences for the team and staff. Low performing teams work in silos and feel disengaged from the team's purpose.
Using VG's Leadership Team Effectiveness' Team Complexity Model, assess the complexity of your leadership team and we can recommend the best process and facilitation approach:
Match Team Complexity with Right Team Intervention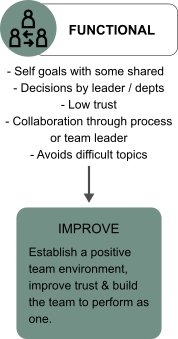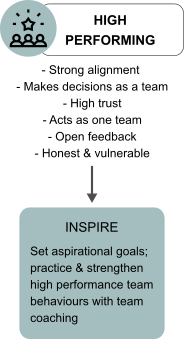 How This Program Will Help You
This highly customised in-house program is designed for teams who want to transform their business together as a high performing team.
We focus on team development areas that will give the greatest return for your business, which includes:
Supporting newly formed senior teams
Reviewing and aligning the top team's strategic direction and priorities
Addressing new challenges from competition or the business environment
Resolving conflicts between individuals and within the team
Helping senior teams adapt to rapid growth and changes
Establishing stronger leadership capabilities and impact
Rejuvenating senior teams
Teams in the world of music and sports take decades to hone their craft and master teamwork. VG's Leadership Team Effectiveness program accelerates this process for you. This program focuses on coaching your leadership team to become ONE TEAM for high performance.
Who Should Attend:
This highly organic and customised program is designed for teams who want to transform their business together as a high performing team. Teams which we work with include:
The Executive Board
C-suite Teams
Global and Regional Executive Teams
Leadership Teams
Teams of Functional Heads
Global and Regional Team Heads
Duration:
In-person: 2 full-day workshops
Remote: 2 hours x 8 live webinar sessions
Some leadership teams may need more than one cycle, depending on the needs of the engagement.
Approach:
Through an initial process of understanding the team, specific team interventions and competencies are applied and honed to facilitate deeper and powerful conversations between team members.
Effective team conversations lead to collaborative consensus and good decision-making as a team. Our team interventions aims to facilitate a safe environment for effective feedback that improves and resolves conflicts, encourage deep thinking and ultimately perform effectively as one team.
What Clients Say About The Program
It has taught us ways to work effectively as a team in a way which can be used in either a small or big group setting. It has also taught us to try to give feedback which will encourage other team members to do better.
~ Vice President HR
I would say it was a good start for us to begin building this team. No BS, straight to the point and provided some very useful tools for us to take forward and implement.
~ CEO
You May Also Like